Come Tomorrow
(from album "Lyon's Message")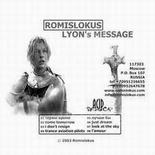 Come tomorrow -
You will see the ocean.
Come tomorrow -
You will see the stars!
But today - today just a TV-set and cup of cofee instead...

Come tomorrow and you won't have to buy newspapers to know what was happened to you.
You will see yourself by other eyes without any help from reporters, printed machines, postmen.
But today you don't know how to live without newspapers.

Postman brings to you newspapers but does he cook it for you?
And who cook for you milk, meat and bread?
You know it was yesterday, it won't be tomorrow.
The reasons to fear you get from newspapers as it is the same with any other reasons.
That's why there are fewer and fewer reasons to live.

That's why you've got all reasons to disappear completely -
you've got nothing more to do except to hire a bodyguard...

The Impasse is a newspaper in your hands.
Rip it up and you will see the forest.
The Impasse is TV screen obstructing the sky and the stars...