Look at the Sky
(from album "Lyon's Message")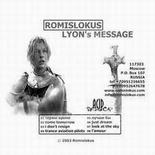 Everybody danced, few people understood whose the tune they dance to
Yes and these few people had forgotten about it.

Our wind, our wings, our air – we can hardly come back home.

When everything varies simultaneously in one direction
Nobody can see anything
And when everything is quite differently there are no witnesses.

Reanimation: two heads of the eagle, chopped off, speak from throne about advantages of mutation.
Greek fire has grown up to the sizes of planet.
The planet shrivelled up to sizes of a grain, which is easy to pick for sparrow.

Main sign of century is the night pot.
Instead of sand in hourglass - sanding sugar.

You laid down an aim, you scored a goal - isn't it your tragedy?
You pose for someone making portraits of another kind

Look in a window - Can you see clouds?
Look at the paintings of masters - Can you see clouds?
Look at the TV screen - there is nothing to see.
Look at pages of the newspapers - there is nothing to know.

Therefore it is useless to peer at the persons reading newspapers, watching TV.
And if you want to live with intelligent facial expression - look at the sky.