Music review from Aural Innovations for album 'Vinyl Spring, Digital Autumn' (in Russian)

????, ??? ?????? ?????? ?? ????????? ?????? ? ?????? ?????????? ????????? ? ???????? ???????. ????????, ??? ? ??????????? ???? ???? ????? ?????????? ???????????? ???????. ?????? ???? ?????? ??????????.
??? ???????????? ???????? ???? ????????, ? ?? ???????. ????????? ???????? ??????????? ??? ????? ?????? ???? ????????????: ?? ????????? ? ????????????? ?? ????????????? ? ???????????? ??????????. ????????? ?? ??? ????? ???????????? ??????????? ???????????. ?? ?????????? ??????? ??????? ?????????? ? ????????????? ?????? ?? ?????? ?? ????? ? ??????, ????? ?? ?? ??????? ???????? ????????? ? ??????.
'?????? – ??? ???????????? ?????????. ? ????? ??????, ?????? ??????? ???????? ????? ???? ??????????? ?????? ?? ???. ?????? ???????? ??? ????' - ??????? ???? ?? ?????????? ??????.
?????? ??????, ? ???????? ??????? ?????? ??????, ????? ??? progressive rock, space rock, orchestral sounding pop, ambient, dance ? ???????????? ?????. ???????????? ??????? ????????? ??????????? ????? ??????????, ??????? ????? ??????? ???????? ?????? ??????? ??????????. ? ??? ?????? ????? ??????????? ???????. ????? ????, ????????? ?????????????? ??????? ?????????? ? ????? ????? ? ??????. ????????? ???????????????? ?????????? ???????????? ???????????? ? ??????? ? ???????? ??????. ? ??????? ?????? ????????? ???????? ????? ?????????? ????? ????.
?????????? ????????? ? ?????? ??????????? ?????????? ????? ? ?????? ??????? ?? ???. '????????????? ????????? ????????? ????? ? ???????????? ??? ????? ? ????? ??????', - ??????? ?????????. ????? ????????????, ??? ???????? ??????????????????? ? ?????? ???????? ?? ??????????, ?????? ?????? ?????????? ??????????? ????? ???????.
?? ??????? ??????? ??????????? ??????????, ?? ??????? ? ?????? ??????????? ???????.
?????? ??????????? ??????????? ??????? '?????', ?? ??????? ??????? ?????? ????????????, ??????????? ? ??????????, ??????????, ??????? ?? X-Files ??????? ? ?????????? ?????????? ??????? ????????. ????? ?? ??????? ??????????? ??????????? ? ????????? ??????????? ????????? ?????????? ?????????? ????? '????? ????????????', ? ??????? ???? ?????????? ???????? ?????? ? ??????.
???? ???????? ????? '???????'. ????????? ? ???????????? ??????? ?????????????? ??????????? ???????????? ?????????, ??????, ??????? ?? ?????????, ????????? ????????????????? ?????????. ??? ??????? ???????????? ????????????? ? ?????? ?????????? '??????', ? ?? ???????? ????-??????? ? ???????????????? ?????????????? ???????.
???????? ? ????-???????? ???? ?????????? ???????? ??????? ? ????????????? ?????????. ??? ??????? ???????? ? ????????, ????? ?????????? ?????????, ? ??????, ??????????? ???????. ?????? ?? ?????? ????????????? ????? ??????? ????? ?????????? ?? Rammstein. ????? ?????? ?? ??????? ?????, ??? ??????? ?????????????. ?? ?????? ?????? ?? ?????????? ??????, '?????????? ???? ??????? ??????????? ?????? ??? ?????. ??????????? ????????? ???????? ????? ?????????? ?? ???????????, ??????? ???? ?????? ????? ???? ????????????? ???????????'. ????? ? ?????? ? ????????????? ?????? ????????????, ?????? ?? ?????? ??????, ???? ???? ? ?? ??????? ? ??? ??? ????. ? ???? ????? ??????, ????? ????? ??????? ?????? ???????????? ???????.
?????? ?? ?????????? ????? ??????? ?????, ????????, ?????? ?????????? ?????????. ?? ? ???? ???????, ??? ????????? ?????? ? ???????? ????????????? (??? ?????? ????? ?????? ??? ????????? ?? ?????? ???????!)
January, 2002.
Jeff Fitzgerald
http://www.aural-innovations.com/issues/issue18/romislok.html
---
Music review from Axiom of Choise for album 'All Day Home' (in English)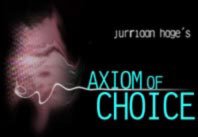 Romislokus - All Day Home
Artist: Romislokus
Title: All Day Home
Label: Independent
Length(s): 45 minutes
Year(s) of release: 2002
Month of review: [03/2003]
Line up
Evgeniy Gorelov - keys
Mikhail Voronov - guitars
Yuri Smolnikov - guitars, vocals
Dmitry Shelemetev - drums
Maksim Karavaev - computers
Mihail Brovarnik - bass
Irina Yunakovskaya - cello

Tracks
1) Cool 3.35
2) Dreg 4.32
3) L'amour 2.55
4) If 5.37 MP3 or RealAudio
5) Freedom 4.17 MP3 or RealAudio
6) I'm Tired 4.08 MP3 or RealAudio
7) Name 2.51
8) Persici 4.37
9) Tree By The Wall 6.09
10) Captain Zero 5.42 MP3 or RealAudio

Summary
All Day Home is Romislokus third release.
The music
As on their previous albums, Romislokus play a highly poppy take on progressive. Previously they managed to make up for that, or at least somewhat, by adding the odd bit of quirky sounds and alternative instruments, aside from some ethnic stuff. On All Day Home, however, they seem to have almost dropped the quirkyness and ehtnic influences. This has resulted in an album of pretty poppy tracks. Granted, some of them have quite a nice atmosphere (such as If), or good moments (Freedom) but the remaining ones are not very interesting. What I do like about this album is that they included a song in Italian (Persici) and French (L'amour), remarkably both sung with a pretty good pronunciation.
Conclusion
As before Romislokus makes very poppy progressive, however, those elements of interest to the lovers of progressive music seem to lose out to others. With that I'd have to conclude that most of this album leaves me uninterested at best. Not a winner.
March, 2003.
Roberto Lambooy
http://www.cs.uu.nl/people/jur/reviews/alldayhome.html
---
Music review from Eclectic magazine for album 'Between Two Mirrors' (in Hungarian)
ECLECTIC - hatodik szam (2001.december)
ROMISLOKUS: Between Two Mirrors (CD)
Volt mar lengyel, szlovak, most a valtozatossag kedveert egy orosz csapat anyaga kovetkezik. Csakhogy meglegyen az osszes szlav nyelvcsalad. A ROMISLOKUS zenejere a legjobb jelzo talan az elektro/akusztikus alternativ. Angol szovegekkel talan csaladiasabb viszonyba kerultem volna a csapattal, de az orosz nyelv mar vegkepp betett nekem. Nem igazan tudtam par percnel tovabb kinozni magam vele. A zene egyebkent eleg erdekes. Sok elektronikus elem van a lemezen, a szintetizatorok folyamatosan szonyegeznek, es nem mernek megeskudni arra, hogy a dobokat nem geppel allitottak-e elo. A gitarok is szerepet kapnak, de eppen csak annyira, mint barmelyik mas hangszer, es mintha tobbszor hallottam volna csellot, vagy valami hasonlo vonos hangszert is, de lehet, hogy csak jo szintijuk van. Nincs elore nyomva egyik hangszer sem, inkabb csak aszisztalnak egymasnak. Kicsit melankolikus a zene hangulata, de dallamos. Az enekes ficko hangja is, csakugy mint a hangszerek, nem firgazik, inkabb csak kiegeszito szerepet tolt be. Az utolso dalban egy no is beszall, az jobban tetszett, tok jol nyomja az orosz szoveget. Nagyjabol ennyit tudok irni errol az anyagrol, es meg nyitott is voltam.
Torok Attila
December, 2001.
Torok Attila
http://www.eclectic.hu
---
Music review from Tarkus magazine for album 'Between Two Mirrors' (in Norwegian)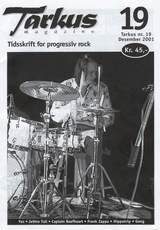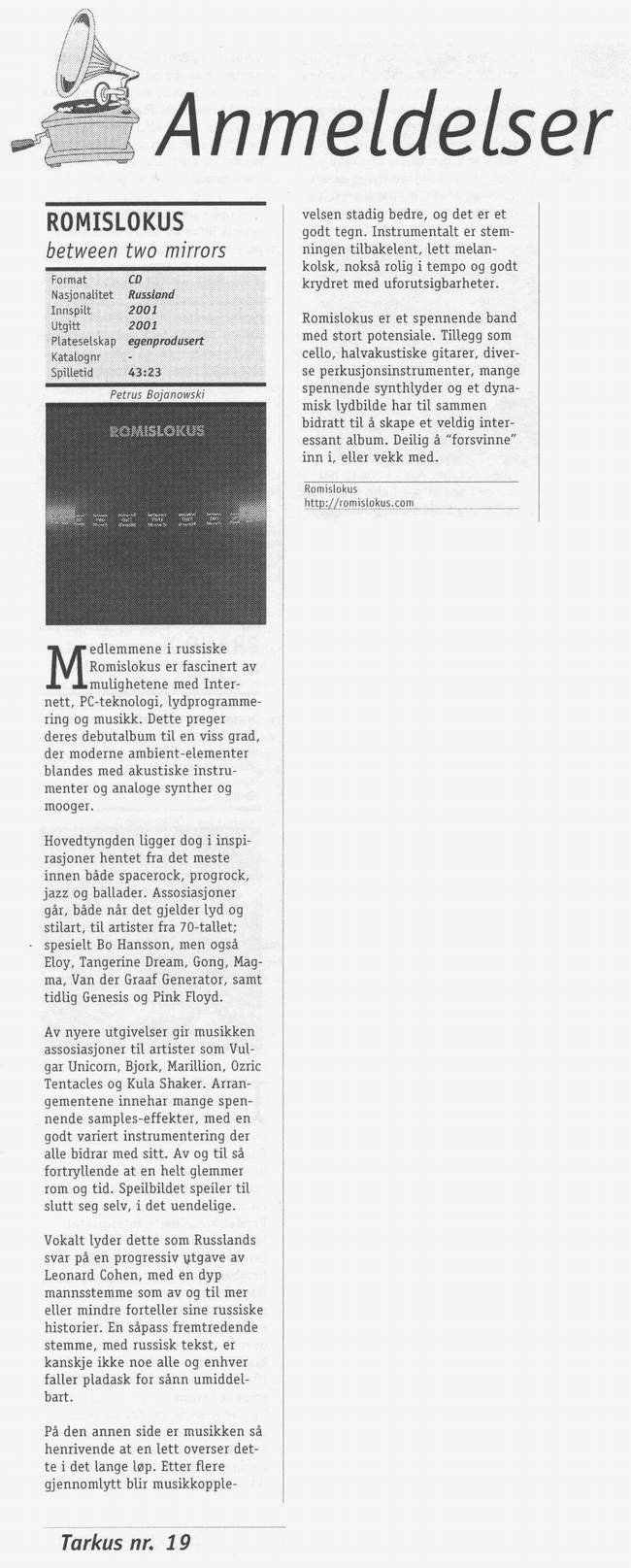 December, 2001.
Petrus Bojanowski
http://www.tarkus.org/
---
Music review from ACID DRAGON magazine for album 'Between Two Mirrors' (in English)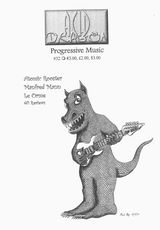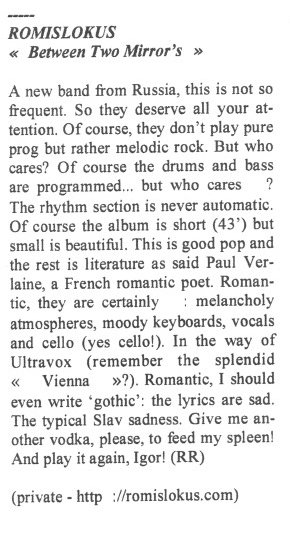 December, 2001.
Rick Ray
http://perso.club-internet.fr/acidrago/ad2.htm