Music review from Tarkus magazine for album 'All Day Home' (in Norwegian)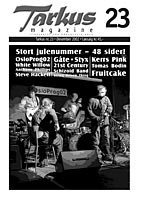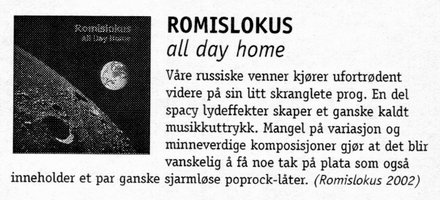 January, 2003.
Sven Eriksen
http://www.tarkus.org/nr23.html
---
Music review from Aural Innovations for album 'Vinyl Spring, Digital Autumn' (in English)

Romislokus - 'Vinyl Spring, Digital Autumn'
(self-released 2002, CD)
From Aural Innovations #20 (July 2002)
Romislokus is a Russian band containing a core of 3 members and joined by 5 others. The band plays a semi-electronic New Age melodic rock music sung in Russian. Occassionally, there were some very interesting musical passages but overall, there was nothing that really grabbed me or kept my attention. This was just not for me.
July, 2002.
Scott Heller
http://www.aural-innovations.com/issues/issue20/romislo2.html
---
Music review from Harmonie Magazine for album 'Between Two Mirrors' (in French)
ROMISLOKUS
BETWEEN TWO MIRRORS
Autoprod.-Russie-2001
43'29
Le grand plaisir avec le progressif, c'est de voir debouler, une multitude de disques issus des parties du globe les plus reculees. On le sait depuis longtemps, l'Angleterre est en nette recession de ce cote, la plus grande manne provient des Etats-Unis, d'Italie ou d'Allemagne. Mais le Japon, la Hongrie, le Bresil nous envoient regulierement des productions de qualite sans que l'on sourcille d'un poil ! Alors, un groupe russe ne nous etonne pas plus que ca, apres le terrifiant Azazello, voici venir des compatriotes avec cette premiere rondelle de Romislokus. Je ne peux pas m'attarder trop longtemps dessus car, a se retrouver 'entre deux miroirs', on ne sait plus de quel cote regarder ! Romislokus sert le chaud et le froid. Instrumentalement, c'est correct, quoiqu'un peu trop synthetique, vocalement, c'est une calamite ! Le chant en russe possede ses charmes mais la langue n'est pas en cause. Le peu de conviction d'Evgeniy Gorelov saborde la tentative d'essaimer un cold-rock egare de la periode la plus sombre des early eighties. Un Nick Cave sans le veloute qui en fait le charme et une onctuosite synthetique mise a mal par des airs bancals malgre une reelle bonne volonte. Il manque une touche de genie pour obtenir une premiere ?uvre qui retiendrait l'attention par un 'p'tit kekchose'. Romislokus nous rappelle l'Angleterre de Thatcher et ses grisailles, un extrait de Cure et Joy Division traite facon balloche ! Mais c'est pas du progressif au fait ! Je sais… C'est pas grave de toute maniere…
March, 2002.
Bruno 'Raspoutine Versmisse'
http://www.mageos.ifrance.com/FrogProg/Harmonie.html
---
Music review from Prog-PT for album 'All Day Home' (in Portuguese)
Encontrar trabalhos enquadrados com a m?sica progressiva vindos da R?ssia n?o ? tarefa f?cil. Por entre nomes pouco ou mesmo nada conhecidos, surgem estes Romislokus. No entanto, e verdade seja dita, tamb?m n?o ? tarefa f?cil encontrar tra?os comuns ao progressivo na m?sica destes russos. S?o sete os elementos que comp?em este projecto: Evgeniy Gorelov nas teclas, Mikhail Voronov na guitarra, Yuri Smolnikov na guitarra e voz, Dmitry Shelemetev na bateria, Maksim Karavaev no computador, Mikhail Brovarnik no baixo e Irina Yunakovskaya no violoncelo. Tudo come?a numa aproxima??o ? new age dos anos 80, evidente na instrumenta??o maiorit?riamente electr?nica em COOL, aliada a uma insipiente t?ndencia pop. DREG j? evidencia uma estrutura um pouco mais complexa e algum arrojo na composi??o, mas tudo sem um objectivo bem definido. A partir daqui, nada mais de novo podemos ouvir. IF e FREEDOM chegam a mostrar alguma ligeira colagem a temas de King Crimson da d?cada de 80. No entanto, o extremo amadorismo e a fraca produ??o n?o deixam as boas inten??es alcan?arem o seu objectivo. Outros temas mais radicais como I'M TIRED ou TREE BY THE WALL revelam alguma influ?ncia de Peter Gabriel, embora levada para campos um pouco mais psicad?licos. ? realmente dif?cil perceber qual o objectivo deste projecto, j? que ficar a meio caminho de diversos estilos musicais bem definidos n?o me parece uma boa estrat?gia.
June, 2003.
Spulit
http://www.dcc.online.pt/~c9507007/newrev.php?review=324&ver=por
---
Music review from MusicBoom for album 'All Day Home' (in Italian)

Dieci tracce di simil-prog leggero leggero, niente altro in questo curioso artefatto proveniente addirittura dalla Russia. Dieci tracce e quasi nessun momento degno di interesse: si saltella qui e l? tra accenti di AOR leggero come una piuma, surrogati di musica che era stantia gi? quando era 'nuova' (roba alla Fish post-Marillion, per intenderci, e altre simili freschezze), tentativi di cantautorato epico, stanche batterie elettroniche, chitarre a transistor e tesi pretenziosi (in inglese, con un paio di eccezioni ne L'amour, ovviamente in francese, e nell'esercizio di improbabile italiano Persici, da cui abbiamo tratto il titolo di questa recensione). L'album non ha una gran coerenza se non nell'essere un continuo tentativo di 'dire qualcosa di epico', le poche idee musicali valide che esso contiene sono mortificate dalla pessima qualit? dei suoni, non si capisce bene quale sia il suo obiettivo, o pure se ne abbia uno. Poco ci manca perch? si tratti di altra musica da ascensore, e lo dico senza cattiveria: la proposta dei Romislokus non mi suona molto altro se non debole e anonima, fatta pi? per orecchie adult-oriented e per talpe progressive che non per pignoli rompipalle egocentrici come il sottoscritto.
June, 2003.
Luca Fusari
http://www.musicboom.it/mostra_recensioni.php?Unico=20030630104947