Music review from Axiom of Choice for album 'Vinyl Spring, Digital Autumn' (in English)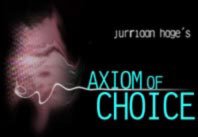 Summary
Romislokus are a Russian band having just released this, their second album, containing songs in a more or less progressive vein, although not that far from laid back pop either. Their approach shows a strange combination of professionalism and amateurism. For instance, the booklet of the CD was printed on nice glossy paper (they even list a cover designer as band member), the CD however looks to be made in a home burner, and despite all the English titles of the tracks, all vocals are in Russian.
The music
The Snow Of The Rails opens the album peacefully, with guitars sounding a bit wobbly (Geoff Mann) and a somewhat hypnotic vocals. The use of keys and various sound effects give the track a certain flavour.
The Face Of A City starts with dominant vocals, making it sound flat, to find this flatness diminished by the instrumental part, which seemingly features Hank Marvin on guitar and a lady on ha-ho feeling very dramatic.
78 has a long intro, featuring cello. Nice atmosphere, spoiled by the oncoming vocals.
Despite the somewhat flat drumming, sounding almost boxed, and not too exiting main guitar line, Absolute Control also features interesting endeavours as well as a nice build up.
It Is Winter is a slow song featuring slow guitar and a cello. The guitar sound remains somewhat onesided, negating the atmospheric effect created by the cello. The bells and violin introduce a James Last Christmas.
Miss The Target starts with lonely keys, sounding as though in a wintery forest, reminiscent of Drowning, Not Waving. As in the previous track the cello puts down a good atmosphere, to find its influence nullified by the vocals. I found the end of this track rather abrupt.
A Tree By The Wall starts mainly cello with vocals, the same contrast as before. The lengthy instrumental section following this once again shows a nice depth of use of instruments and melodic almost experiments.
Tuner is a bit of a surprise, since it sounds very much like modern psychedelic, with a dancy beat and fuzzy guitars. Not exactly an asset for this kind of album.
Substance starts largely vocal with guitar, not all thrilling, but the oncoming of the violin and female vocals add a melancholic mystery making the track quite worthwhile.
Smoke finishes the album representatively, with the strummy guitaring and vocals, with the bells taking a clear role for themselves, this time though, not used too remind one of Christmas. And followed by an instrumental part which gives the track its depth.
Conclusion
I'm not sure whether its the language or just the tone of Smolnikov's voice, but the vocals on this album tend to flatten the compositions out. Which is a shame, really, considering the amount of instrumental depth Romislokus manage to bring on this album. In fact, the first time I listened to this album I considered it rather bland, and only on listening again did I find the depths behind the vocals. Sure, the wobbly guitars are pulled out a little too often, but the richness in instruments (no wonder, for a band with so many members) makes for a nice change. However, since the band fail to capitalize on strong sides, I would call this album more a chance missed, than a point scored.
April, 2002.
Jurriaan Hage
http://www.cs.uu.nl/people/jur/reviews/vinylspringdigitalautumn.html
---
Music review from RockNet for album 'Between Two Mirrors' (in English)

Slowly but certainly Rocknet is becoming a settled website on the internet. In the year-and-a-half we've been going at it, more and more bands are finding us without us spamming guestbooks, forums and newsgroups. So did Romislokus. All of a sudden there was mail from Russia. If we would be interested in receiving a copy of 'Between Two Mirrors'. Now who are we to decline such a gracious offer? So having absolutely no idea what this band is all about, I slided this disk into my cd player.
And I was in for a surprise.
This is by no means a rock release. The music you'll find on this disk is moody, dark synthesizer stuff. Chroma Key comes to mind. I think that's the closest thing we've ever featured on Rocknet.
The programmed drums and abundant synthesizers make for a filmic vibe. But the addition of cello was a good move. It lends the music an organic character other synth dependant releases often lack. Most of the songs are slow to mid-tempo tracks. The first two songs will give you a pretty good idea of what you're up against here.
Personally I like the songs where the vocals are in a haunting low key. The two singers Evgeniy Gorelov and Yuriy Smolnikov (I have no idea who sings what) both fit the music well enough, but it's the moody stuff that caught my attention. Songs like 'The Thunderstorm Is Coming' are cool in their own right, with subtle cello parts and distinctly mechanical drum rhythms, but it's songs like 'The Mist' and 'Cold' that take the prize.
I don't know how many Russian releases make it to Europe on a noticeable scale, but this one, if available, is definitely worth checking out. Go and check out http://romislokus.com; maybe you'll find out how to get a copy there.
And if you're ever able to get your hands on this make sure to check out 'The Mist' and pay attention to the excellent guitar sound. It blends seemlessly with the song, and is one of the most original approaches to guitar tracking I have heard in a while. An mp3 download of this tune is available from the Romislokus website
This will probably appeal to a small number of people, but those who dig this kind of stuff, or are open to new experiences could well be in for a treat. Pay attention though: the titles are mentioned here in English, but the actual vocals are in Russian!
Eef Vink
February, 2002.
Eef Vink
http://www.rocknet.nl/newreleases/romislokus/index.html
---
Music review from Caladan for album 'All Day Home' (in English)

1.Cool - 3:35 / 2.Dreg - 4:32 / 3.L'Amour - 2:55 / 4.If - 5:37 /5.Freedom - 4:17 / 6.I'm Tired - 4:08 / 7.Name - 2:51 / 8.Persici - 4:37 / 9.Tree By The Wall - 6:09 / 10.Captain Zero - 5:42
Total time: 44:49
musicians:
Evgeniy Gorelov - kbds. / Mikhail Voronov - g. / Yuri Smolnikov - g.,voc. / Dmitry Shelemetev - dr. / Maksim Caravaev - computers / Mikhail Brovarnik - bass. / Irina Yunakovskaya - clo
Romislokus - 2002
Note : 7

This album is strange... even bizzare in some parts, but there's something about it. Romislokus is a Russian band. 'All day home' is their first album with English lyrics and their third effort in general. As for the music... hmmm... at first sight (or rather hearing) it seems to be chaotic. These seven people move throughout various music genres, such as space rock, new wave and some provincial_wedding stuff... The first listening evoked surprise and slight contempt. The music seemed too weird, but as I have already mentioned, there's something about it. Therefore I came back to that record once again and I must admit that it's interesting. Apparently there's a method to this seeming chaos and the musicians manage to embrace it. 'Cool' resembles new wave, 'Dreg' is a bit dark. 'L'amour' - the title says it all. It couldn't be more French. No! I am not going to analyze the songs one by one, because it doesn't make any sense. This album will definetly not satisfy enthusiasts of Genesis and Fish-lead Marillion, but it's a must for people interested in new sounds and willing to accept new impressions. I guarantee that, at least in a few parts of this recording, those Russians will amaze you. 'Freedom' for instance, has a really nice melody and powerful vocals (a strong point of Romislokus!) but is all of a sudden broken by some freaky sounds. As for 'Name'... I'm helpless. On the one hand it's very similar to the most disgraceful 'achievements' of disco-polo bands (disco-polo is a specific polish dance music, only for tough guys;). On the other hand I feel that somehow the album would be less interesting and more monotonous without it. 'Tis strange, isn't it? What's even more weird,is that at first listening, this recording will just pass you by and leave you indifferent to it. However with each successive playing of this album, you will discover more new and interesting elements. Without reservation I can state that Romislokus plays progressive rock,and far more progressive music than efforts of Pendragon, Arena or Porcupine Tree. (I mercifully don't mention the recent Marillion albums) Go for this album, it's worth it.
April, 2003.
Tarkus
http://www.caladan.art.pl/erecenzje_sc.php?id=30
---
Music review from DMME.NET for album 'All Day Home' (in English)

ROMISLOKUS -
All Day Home
No matter what the title suggest, there's no hint of agoraphobia.
It comes as a surprise: with all the classic rock popularity in USSR, Russian bands are still rare in the field. Yet when they emerge, they do rock - witness ROMISLOKUS. Bubbly guitar melody of 'Cool', the opener of this album, their second, is able to find a way to both the prog lovers and the MTV eaters. But while clever English lyrics and various effect add up to the tastiness, not everything here bristles with immediacy, 'L'Amour' and 'Persici' (sung in French and Italian respectively) taking an alt course to ram it all home with piano-driven melancholy of 'If' and space rock of spacious 'Freedom'. The coldness of those may come as an explanation for the title, yet there's a warm shot in a form of '60s-styled 'Name', which points towards greater things - are they out of the doors yet?
***1/2
April, 2003.
Dmitry M. Epstein
http://dmme.net/reviews/reviews26.html#romis
---
Music review from Alternative Rock Review for album 'All Day Home' (in English)
The guys from Russian progressive rock band Romislokus' sent me their third album 'All Day Home' all the way from Moscow. The band consist of (takes a deep breath) Smolnikov, Mikhail Voronov, Mikhail Brovarnik, Anna Goya (violino), Irina Yunakovskaya (violon cello), Evgeniy Gorelov (keyboards), Dmitriy Shelemetev and Maksim Karavaev.
I falsely assumed the music would be generic heavy metal before listening to a note, but was surprised to hear melodic, 70s influenced classic rock with synthesiser tones. My immediate reaction was mellow Pink Floyd, although I've read other reviewers mention Tindersticks and Roxy Music as comparisons.
The previous album 'Vinyl Spring, Digital Autumn' (cool title BTW) was exclusively sang in Russian lyrics, understandable as Romislokus are singing in native tongue. However, 'All Day Home' features lyrics performed in English with exception of two tracks, one in Italian, the other in French. I don't know why for this change as I would have enjoyed the Russian lyrics, maybe it's to break the Western market and expand the fan-base further.
This record is so unfashionable that it's very refreshing to hear when most bands are jumping onto the latest rap-metal/post-grunge trends - the electronics employed are more vintage analogue than 21st Century cutting edge. Take second track ''Dreg' as a case in point, the relaxing vibe of the verses are accompanied with strings and other subtle touches, that is until the chorus comes in with the gruff growl of the word DREG!. repeatedly forcing it's way into the brain. I quite like 'L'amour' as well, naturally sang in French, and is an all too brief 2:55 minutes long. Ah yes, the melodic 'Freedom' has a very interesting intro guitar riff, launching into a mid-tempo rocker with flourishes of ambient textures. The following 'I'm Tired' keeps to the mid-tempo formula but this time has a jazzy feel, and the straining of the words I'm Tired encapsulating the mood of the song.
Normally 70's styled prog-rock leaves me bored, but 'All Day Home' kept my interest throughout, mainly listening out for the diverse instruments that enlivened a song when it appeared it was going no-where. The choruses are strong, especially on 'Dreg' and due to not following modern trends, it's highly unlikely the album will date. All in all I give Romislokus the thumbs up if you like laid-back rock with diversity.
March, 2003.
Nick Collings
http://www.entertainment.inuk.com/index.html