Misha Brovarnik - bass player of Romislokus.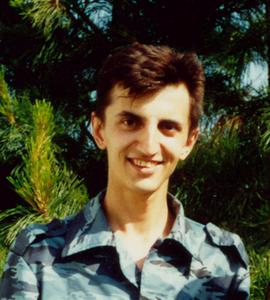 When I studied biology at Vyatka Agriculture Academy I spend a lot of my free time playing music. I had organized the band with the name "Come In". I wrote all lyrics being major singer of the band. We were three: me, guitar player and drummer. I had to play on different musical instruments: bass, flute, guitar. We played psychodelic rock with the elements of post-punk. I like the bands of "new wave": The Cure, U2, Joe Division. We played on the stage of Rock Laboratory in Vyatka-city. At that time Yuri Smolnikov was its leader. And under some influences of relation with him the elements of sympho-rock appeared in music of "Come In". Two cello players and violin joined the band.

The band existed for a three years. We were making a lot of experiments and I had grown as musician and author. By the way, one of cello players in "Come In" were Irina Yunakovskaya.
In 2001 I worked as state senior inspector of nature conservation. Our responsibilities were protecting of nature resources and wild life of Nizhnesvirsky Nature Reserve. It situated in Santa-Petersburg region.
We inspected forest roads and sail on boats throughout Ladoga lake. There are many beautiful scenery of mother nature. Sometimes I saw wild animals: wolf, fox, bear, elk.
Of course, Summer is most wonderful time in this place of Earth. A lot of Sun, warm waters in rivers and delicious forest berryless!


At summer students from Sweden and USA visited our places. I could know what new music is listened in Europe and USA now.

I was met with Andy Houston from Indianapolis. He is play on drums in one "grunge" rock band. He likes much the Country music and his favorite rock band is "Creedence". I sad him that I listened all songs of Creedence and I like American guitar music very much.
I made for Andy drumsticks from branches and he used kitchen utensils instead of drums. I had acoustic guitar and we played "jams" a lot.
It was very cool !!!
Funny time went out fast. Autumn carried many problems in security of Reserve and I was absorbed in my work. For weeks I with other rangers was on patrol making observation for wild life.


I saw very many birds flying to the south. When flock of wild gooses flew on low level, clash of wings was very loud. Not far from my home two squirrels lived and I can see from my window that they make stocks of food for a winter.
In December the snow had fell and we began to use snow cars. It was very cold. I could see "polar lights" very often in the night sky.
I learned a lot at this work that I hope will be useful me further.