The questions from visitors of the official Romislokus site.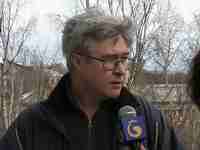 How would you personally describe the music of Romislokus?
Using only one word I would say: it is reality. Or may say - new reality, because we try to make something that didn't exist in music before us. To be heard and understandable we use the best from other art-makers. But without new original findings music doesn't have its meaning. I'd like to create musical world where good man feels good and bad man can't even step inside. Don't want for example Saruman or Sauron like my song - it would be better if such people feel worse from it.
Where do the ideas for the songs of Romislokus come from? What do you contribute to them?
One more complicated question I'll try to answer. There is no prescription how to compose the song, the songs are not medicines although are able to treat for different troubles. Medicines are often bitter. The songs also have bitter things sometimes. But most of the songs appear from the waiting for the miracle, light sorrow, wonderful beauty that you may notice around. Environment world are full of wonderful ideas. All that we need is to reach it by the hand. It all are very close. I've got much pleasure from wonderful people's feedback.
Are you looking for commercial success?
First of all we wanted to achieve creative results in our album. Our songs are firstly calculated for people who care about today's changes in the world. And because of commercial side is the one side of the modern world we couldn't ignore it. If from your point of view our music became more commercial then it is true. In any case we do the things walking on the road of discoveries.