Radio station WUSB
Country: USA
City: Stony Brook, NY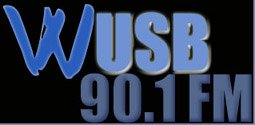 WUSB is Long Island's largest non-commercial, free-form radio station. Tune in any time and you'll hear sounds ranging from interviews, commentary, jazz, pop, punk, noise, funk, folk, blues, reggae, polka, world music, live music, spontaneous mixes and groovy combustion.

Its signal can be heard at 90.1 FM on most of Long Island, and in Southern Connecticutt, parts of NYC (Brooklyn and Queens), and Westchester County. (It can also be heard on the University at Stony Brook's cable channel 10, and over the Internet.)

In more detail, WUSB is licensed by the FCC to the State University of New York as a 4000 watt non-commercial station located on the campus of the University at Stony Brook.

Since 1977, WUSB has served the campus and Long Island listening communities with a diverse broadcast mix of music, news, public affairs, drama and sports programming. 24 hour a day schedule is made possible by a volunteer staff efforts of over 160 USB students, faculty, staff, alumni and community residents. Behind-the-scenes as well as on-air work, combined with a variety of nationally syndicated radio programs integrated into the schedule, creates the 168 hours per week of innovative and high-quality programming.
Telephone: Studio & Requests: (631) 632-9872
Requerest a romisloku's song.
Official web-site: http://www.wusb.org