Radio station KRCB 91FM
Country: USA
City: Rohnert Park, CA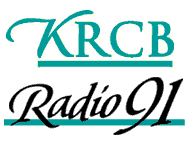 KRCB-FM signed on the air in 1994 Radio at 91.1, as Sonoma County's first full service, community, public radio station. Now on cable in Marin County at 95.7 FM.

KRCB-FM's schedule includes the only source for classical music on local airwaves. There's also NPR News, jazz, blues, adult rock, folk & acoustic, world music, radio theater, comedy and a live variety show.

KRCB main transmitter, which broadcasts on 91.1 FM, is located on b Geyser Ridge, northeast of Geyserville. If there are hills or mountains between you and the transmitter, they will block the signal. This is true for some parts of Healdsburg, all of the Sonoma Valley and most of the Valley of the Moon, most of Petaluma, Cotati and Rohnert Park, and portions of Santa Rosa.
Official web-site: http://www.krcb.org/