Radio NSR Union Society Newcastle
Country: UK
City: Newcastle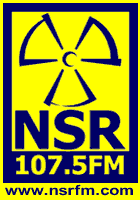 Russ Williams founded the station in 1997, as a joint venture between the two universities. The station was nominated in the National Student Radio awards last year, 2000-2001, for the Best Factual Spoken Word Show. The Nerve, which is a student news show that goes out every weekday night at 6pm, was narrowly beaten to this prestigious award.
The station plays a wide variety of music; from pop to indie, from r&b to soul, from hip hop to house. Because of this they have something that will appeal to everyone. They have secured the services for the October 2002 broadcast of prominent DJs in the North East including Legends resident Tim Monckton, as well as the leading Drum & Bass DJs in the North East, Phobia and Piper.
Telephone: 0191 239 3967
Requerest a romisloku's song.
Official web-site: http://nsrfm.com/