Radio Campus FM University of Malta
Country: Malta
City: Msida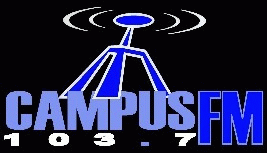 Campus FM, the University of Malta's radio station has been launched in February 2002. Campus FM's brief is to offer educational broadcasting by producing programmes of a formal and informal educational nature. Campus FM will build on the tradition of quality programming that Radju ta' l-Universita' has built, to provide a wider audience with a sample of the educational activity that takes place within the University. Towards this end, students, lecturers and staff are being involved in the radio's operations and are contributing towards various productions and initiatives.
Campus FM transmits between 0800 and 2200 hours on 103.7 FM and is available to internet users through collaboration with Video-On-Line. Campus FM rebroadcasts the BBC World Service after 2200 hours.

Listen radio on-line.
Official web-site: http://campusfm.um.edu.mt