History of the cover "To Be Alone With You".
by Evgeniy Gorelov
I found the band Jelly Bean Bandits in space of Internet. They play classic rock since the 60-th years. I have visited their web-site and downloaded composition "Welcome to Wilmington" from album "Time and Again". Due to my bad English I understood only few words in the song. There were something about Bruce Willis and I sent e-mail about it to the band' keyboardist Mike Raab. He liked my letter and so Jelly Bean Bandits sent to me their funny Happy New Year' photo, which I placed in the kitchen and was very glad about it.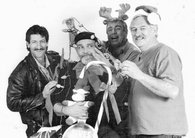 | | | |
| --- | --- | --- |
| | We have exchanged our discs. My favorite song from Jelly Bean Bandits' "Time and again" is "To Be Alone With You". I like slow melody as I remember myself. Ambient-progressive "Between Two Mirrors" of Romislokus and classic rock "Time And Again" of Jelly Bean Bandits are different, but beautiful music has become the reason of the friendship of the musicians. | |
| | |
| --- | --- |
| | I had visited Red Square and made photo with "Time And Again" there for Jelly Bean Bandits web-site' Scrapbook. Their answer-doings had become so amazing |
| | |
| --- | --- |
| Fred Buck (Jelly Bean Bandits' bass) put "Between Two Mirrors" to Woodstock concert place and made photos on stone plaque. My impressions of these photos were very impressive, because before that I have seen Woodstock only in the video and now I can keep it in my hand seeing located there disk with music of Romislokus! | |
| | |
| --- | --- |
| | We have celebrated successful receiving of Woodstock photos. Romislokus decided to make a cover of my favorite song of Jelly Bean Bandits "To Be Alone With You". |
It was our first experience of working on recording of English song. Cello and computer effects of Romislokus with guitars led to a version of song, which combines classic rock and ambient-progressive directions. On my opinion, it is a great experiment in space of crossing musical styles and collaboration of musicians of two courtiers - USA and Russia.

| | |
| --- | --- |
| By the way, the time of ending of the record has coincided with time of Moscow' landing of U.S. President George W. Bush for meeting with Russia President Vladimir Putin. | |
After recording we placed mp3-version of song "To Be Alone With You" on our web-site. 2 days after Radio Rock UK and Radio Caroline included this song in their playlists.

Since that time Romislokus' cover received many positive feedback from different countries.

Now song is ready for releasing in CD "Bandit Planet" - cover versions for the songs of band Jelly Bean Bandits by different bands from USA, Australia, Jamaica. So, history of song "To Be Alone With You" continues.


---
Download Romislokus' cover version of song "To Be Alone With You"
of The Jelly Bean Bandits.