Radio Hofstra University WRHU
Country: USA
City: Hempstead, NY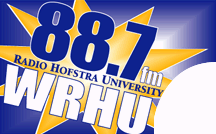 WRHU-FM is Long Island's oldest noncommercial radio station and a cornerstone of the Hofstra University School of Communication. The mission is to provide professional broadcast training to qualified Hofstra University students. In addition, they serve a diverse community by broadcasting to most of Long Island and New York City, as well as parts of Connecticut and New Jersey.

WRHU has an operating staff of more than 100 people, most of whom are Hofstra University students. Four School of Communication professionals supervise station operations and provide broadcasting experience, while a group of community volunteers offers life experience, individual talents, and peer leadership. To participate at the station, all staff must complete a 10-week non-credit course covering the basics of audio engineering, announcing, production, and more.

More than 30 individual programming formats find a home on WRHU.

Telephone: 516-463-3674
Listen radio on-line.
Official web-site: http://www.wrhu.org/