Radio show Mark from Holland
Country: Netherlands
City: Heemskerk

Mark from Holland - Sunday Evenings 10:00 PM to 12:00 PM - Radio Heemskerk, Holland 104.5 (cable) and 107.4 (ether).
Heemskerk, Netherlands - Radio presenter Mark C. Deren comes from Holland,PA U.S.A. (near Philadelphia). He moved to Holland, Europe some eight years ago. He went to Dutch school, learned the local lingo, and created a famous radio program called "Mark from Holland" under the guidance of then Radio Heemskerk Program Director Jan Provily. The show began on March 5, 1995 with a live performance by former Virgin recording artist Richard Sinclair, originally from the Canterbury band Caravan. Many other famous musicians were to follow.

The popular radio program's main thrust is the so-called "Progressive Rock" but other catchy, well played and quality styles are also welcome. Besides Richard Sinclair, Deren has made interview specials with such artists as Peter Bardens & Colin Bass (Camel), Hugh Hopper & John Etheridge (Soft Machine), Phil Miller & Pip Pyle (In Cahoots), Anthony Phillips & Steve Hackett (Genesis), John Wetton (King Crimson, UK, Asia), Bill Bruford (Yes, King Crimson), Carl Palmer (ELP), Peter Hammill (Van der Graaf Generator), Thijs van Leer & Jan Akkerman (Focus), Jerney Kaagman (Earth & Fire), Phil Shulman (Gentle Giant), Simon Nicol (Fairport Convention), Rod Clements (Lindisfarne), Ray Fenwick (Spencer Davis Group), Gordon Giltrap, Sharon den Adel (Within Temptation), Martin Orford & John Jowitt (IQ & Jadis), Gary Chandler (Jadis) Clive Nolan (Arena), Nick Clemons (son of Clarence Clemons), Ian Anderson (Jethro Tull), and many, many more.

"Mark from Holland" is broadcast every Sunday evening (on a volunteer basis) between 10:00 PM and 12:00 PM to a listener range containing roughly 500,000 people in the Randstad (North Holland). Mark presents the program in amusing, fluent Dutch, except when he's interviewing English speaking (only) musicians from a variety of countries. International call-ins are a common feature of the program (see contact section). Radio Heemskerk can be found on 104.5 (cable) and 107.4 (ether).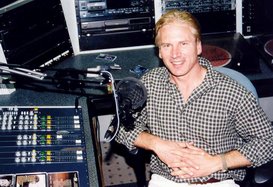 May, 2002 - ROMISLOKUS was interviewed for this popular Dutch Radio Program on Radio Heemskerk, Netherlands. Presenter Mark Deren traveled to Moscow to meet the band, and to record Romislokus music live for the one hour radio broadcast.
Official web-site: http://www.markfromholland.com