Radio Cambridge University
Country: UK
City: Cambridge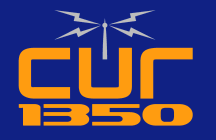 Cambridge University Radio is the University of Cambridge's very own radio station, broadcasting 24 hours a day to students around the University. CUR1350 also produces programmes which are broadcast nationwide on the Student Broadcast Network.
Unlike almost every other radio station in the country, CUR1350 does not have an enforced playlist. This means presenters are free to play a wide variety of music, so there's certainly something to suit you. They also have a well-stocked and ever-expanding record library in our studio building that all members can use during their shows. CUR1350 have reacently introduced an online database searching tool making it easy for members to find what they want in the shortest time possible!
Telephone: (01223) 569509
Requerest a romisloku's song.
Listen radio on-line.
Official web-site: http://www.cur1350.co.uk/